Please Note: This product will be shipped around August 28, 2020 (ETA, not guaranteed). The final shipping date depends on the manufacturer. We will try to get it delivered as soon as we can.
The product images and information are provided by the manufacturer, for reference only. The final refers to the manufacturer's actual product.
The package and accessories may vary from batch to batch. All images are for reference purpose only.
The authentic Rincoe Manto Beast Mod is powered by dual 18650 batteries (not included) to provide 228W max power. Made of PC material, Manto Beast is elegant and 30% lighter than the usual mod. It comes with 5 levels of voltage to meet your different vaping requirements. There are multiple protections to ensure your safety: Overheating / Reverse Battery / Overload / Short-circuit / 10s Cut off / Low Voltage Protection.
Other Color:
VW Mod:
Mod Kit:
3FVAPE Recommend Products:
Data sheet
| | |
| --- | --- |
| Brand | Rincoe |
| Color | Carbon Black |
| Model | Manto Beast |
| Product Type | VV |
| Material | PC |
| Compatiable Battery | 18650 |
| Thread Type | 510 |
| Variable Wattage (VW) | No |
| Charge Style | AC/USB |
| Telescoping Mod | No |
| Battery Type | Interchangeable |
| Variable Voltage (VV) | Yes |
| Package | 1 x Manto beast 228w mod, 1 x Certificate card, 1 x Warranty card, 1 x User manual |
| Weight | 77g (2.72oz) |
| Depth | 51mm (2.01 inch) |
| Height | 91mm (3.58 inch) |
| Width | 26.5mm (1.04 inch) |
More info
Material: PC
Size: 91 x 51 x 26.5mm
Powered by 2 x 18650 batteriss (not included)
Charging: 5V / 2A
PCB Efficiency: 95%
Input Voltage: 6.4~8.4V
Output Voltage: 1~8V
Max Output Current: 40A
Lightweight with PC material
5-Level voltage adjustment
Fast firing speed of 0.004S
Type-C charging cable
228W max power with dual 18650 cells
Multiple battery protections: Overheating protection, Reverse battery protection, Overload / short-circuit protection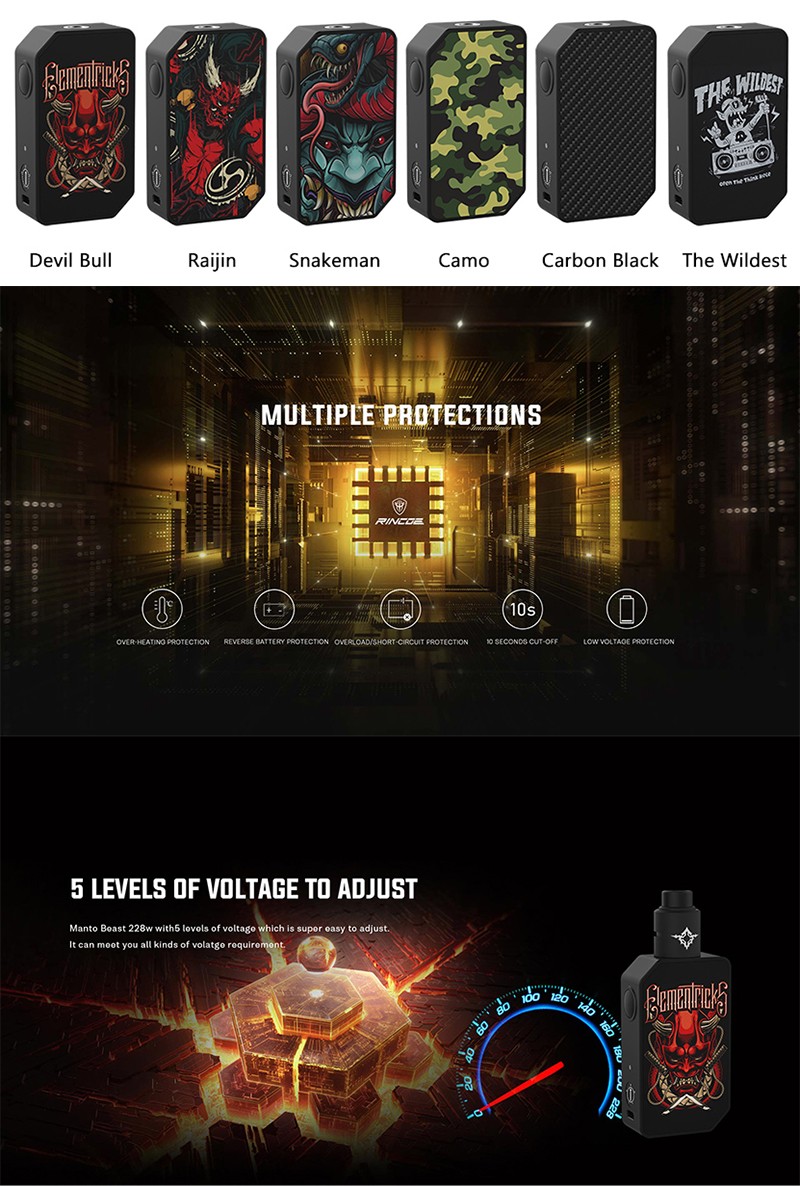 3FVape is a professional electronic cigarette retail, wholesale and dropship online shop. We provide new and cool e-cig products at affordable price. We have overseas warehouse for you for fast delivery.
If you find a product to be authentic, then it is not a clone. Authentic Rincoe Manto Beast 228W VV Variable Voltage Vape Box Mod - Carbon Black, 2 x 18650, review, price, shipping
and other questions regarding this product, just contact us. We also encourage you to leave review of e-cig products on 3FVape.
All the sizes are measured manually, please allow tiny differences due to manual measurement, thanks.
The parameters are for reference only; The details are subject to the official / manufacturer; Please tell us if there is any error.