The Yachtvape Meshlock RDA Rebuildable Dripping Atomizer is made of Resin + Stainless Steel with 24mm Diameter which is a super innovative rebuildable atomizer. Specifically designed for mesh coils, this RDA features press-to-open terminals(no screw drivers) for extremely easy and fast coil installation. This RDA was designed with squonking in mind, utilizing three juice holes to ensure proper and full saturation of your wicks. Two of the holes direct to the juice wells on either side of the deck, and a third directs juice straight to the coil.
Other Color:
Mesh:
Replacement 0.2ohm Mesh Coil Sheet:
Replacement 0.13ohm Mesh Coil Sheet:
MECHLYFE x AmbitionZ Vaper Slatra Mesh:
Vandy Vape Kylin M Mesh:
OFRF nexMESH Coil Mesh:
Wotofo Mesh:
3FVAPE Recommend Products:
Data sheet
| | |
| --- | --- |
| Brand | Yachtvape |
| Model | Meshlock |
| Color | Gold |
| Product Type | Rebuildable Atomizer |
| Material | Stainless Steel + Resin |
| Airflow | Adjustable Airflow |
| Coil Rebuildable | Coil Rebuildable |
| Thread Type | 510 |
| Coil Replaceable | Non-Replaceable Coil |
| Drip Tip | With Drip Tip |
| Package | 1 x Meshlock RDA, 1 x Japanese cotton, 1 x Extra 810 Drip Tip, 1 x User Manual, 4 x Mesh, 1 x Accessory Bag |
| Weight | 44g (1.55oz) |
| Diameter | 24mm (0.94 inch) |
| Depth | 24mm (0.94 inch) |
| Height | 32mm (1.26 inch) |
| Width | 24mm (0.94 inch) |
More info
Material: Stainless Steel + Resin
Diameter: 24mm
Top airflow Mesh RDA
Easy and fast coil installation
Three juice inlet hole
Great Flavor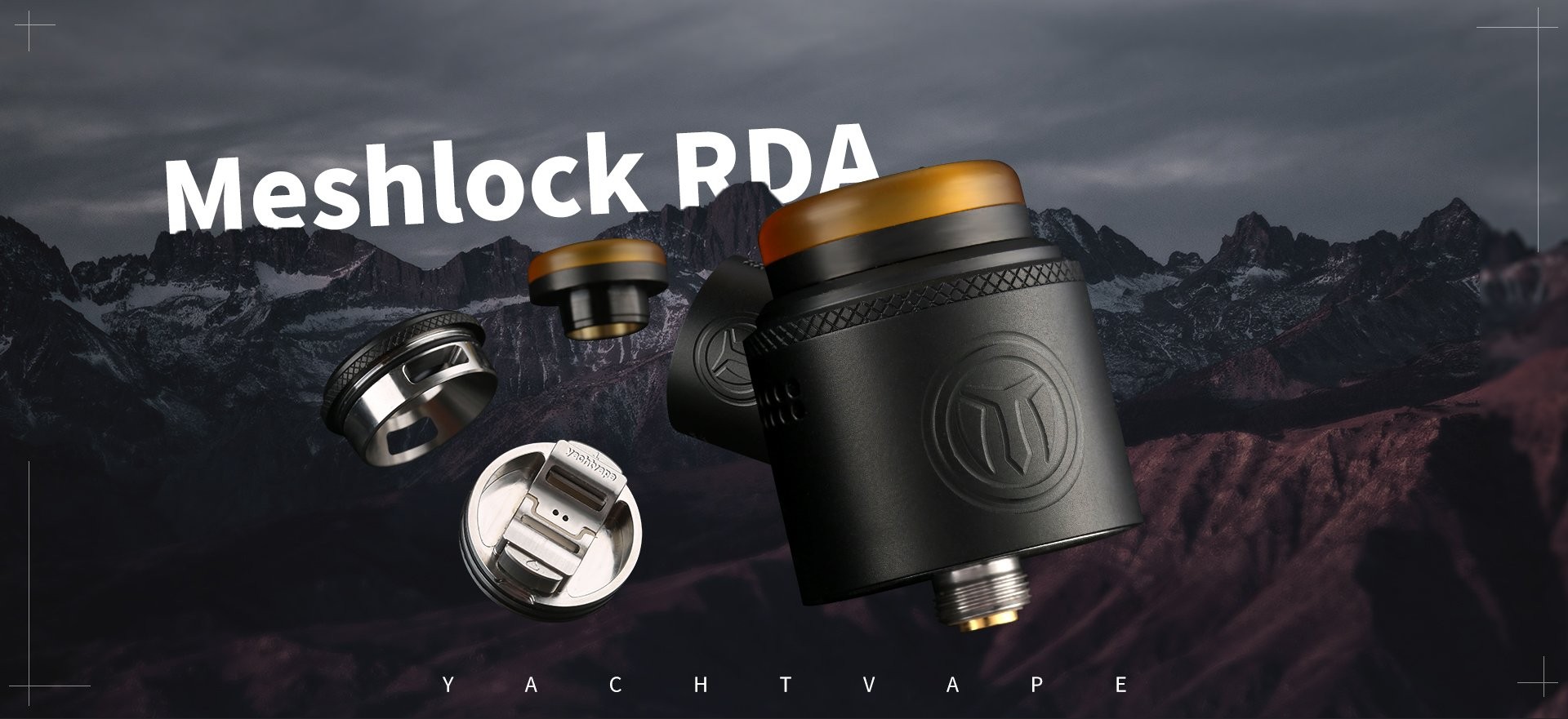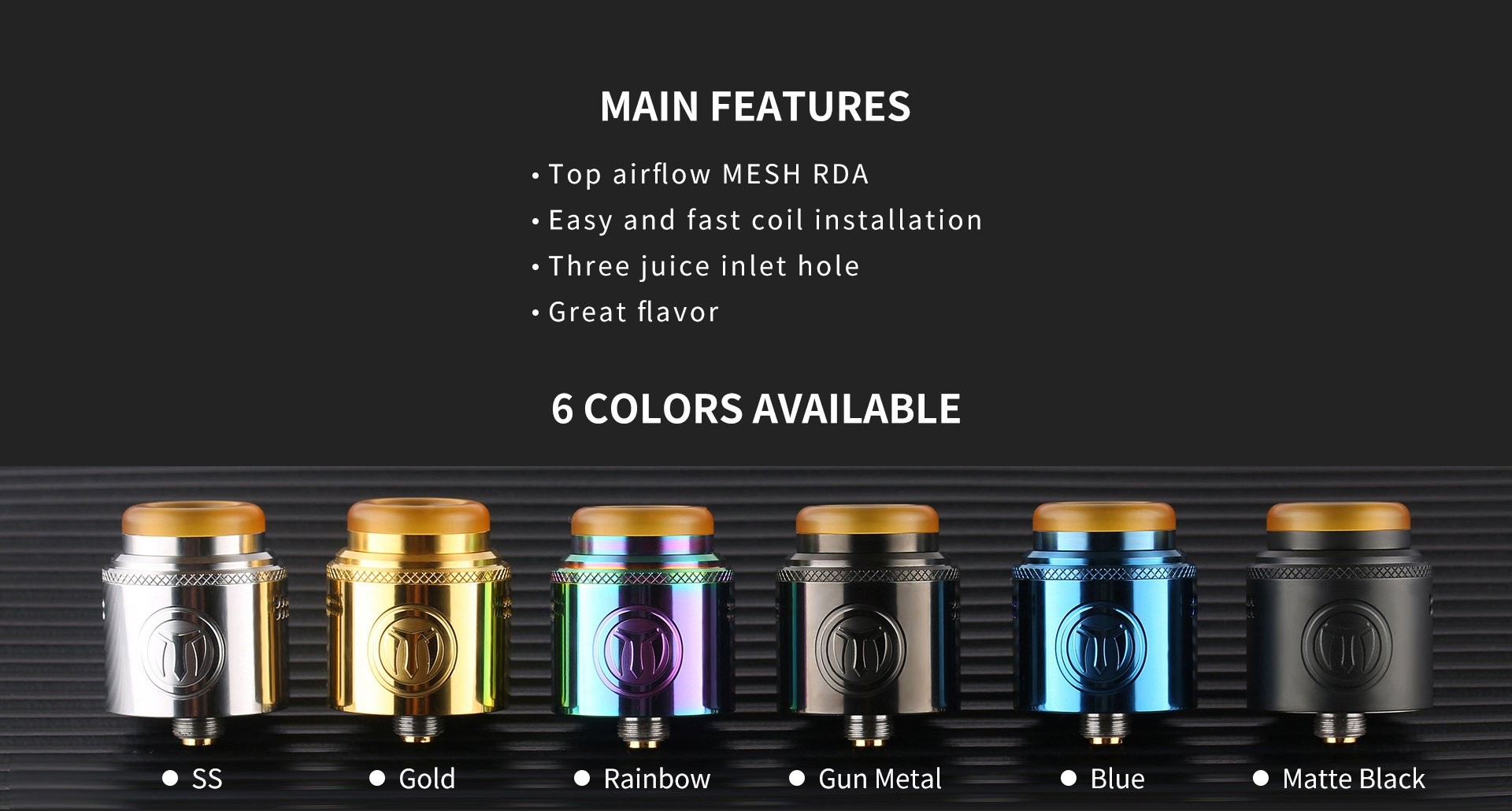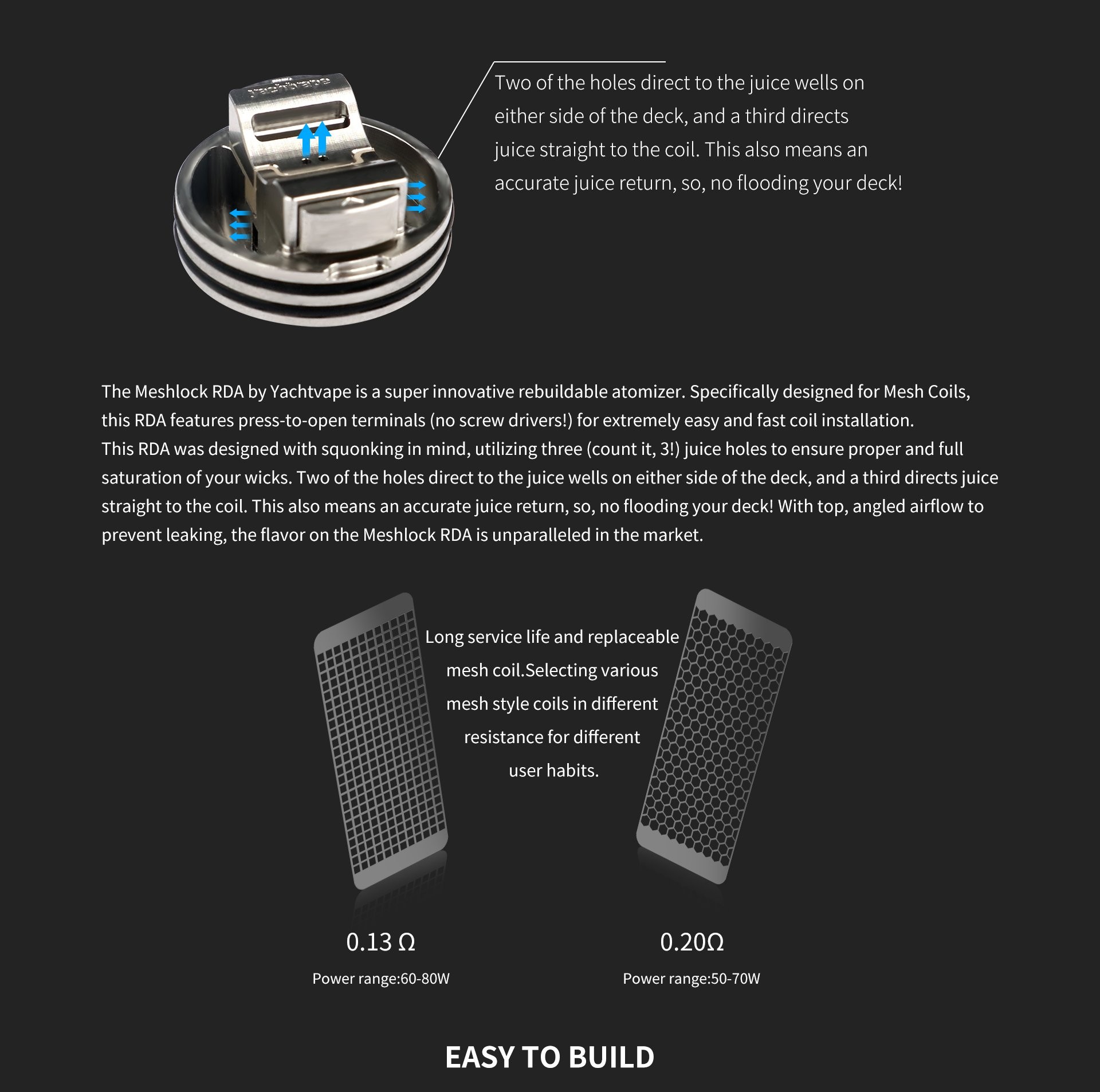 3FVape is a professional electronic cigarette retail, wholesale and dropship online shop. We provide new and cool e-cig products at affordable price. We have overseas warehouse for you for fast delivery.
If you find a product to be authentic, then it is not a clone. Authentic Yachtvape Meshlock RDA Rebuildable Dripping Atomizer w/ BF Pin - Gold, Stainless Steel, 24mm Diameter, review, price, shipping
and other questions regarding this product, just contact us. We also encourage you to leave review of e-cig products on 3FVape.
All the sizes are measured manually, please allow tiny differences due to manual measurement, thanks.