The authentic Cthulhu Artemis MTL RTA is a painstaking collaboration from Cthulhu MOD and George Batareykin. The Cthulhu Artemis MTL RTA shows the unique temperament that a real RTA should have. The slender drip tip reminds you all the time that Cthulhu Artemis is a more suitable RTA for MTL vape. The dome-shape chimney of Cthulhu Artemis brings better flavor and throat hit to vapers too. The sturdy 304 stainless steel construction makes Cthulhu Artemis more stable and strong in daily use. The asymmetric posts and 22mm diameter of Cthulhu Artemis provides an easy way for single coil building. Five sizes of airflow holes at the base bottom allow users to freely adjust from 0.8mm to 2.7mm. Meanwhile the Cthulhu Artemis comes with replaceable air pins with different sizes. After free arrangement, users will experience up to 25 airflow settings.


Please login to see the lower price.
Other Color:
3FVAPE Recommend Products:
Data sheet
| | |
| --- | --- |
| Brand | Cthulhu |
| Model | Artemis |
| Color | Black |
| Product Type | Rebuildable Atomizer |
| Material | Stainless Steel |
| Capacity | 2.4ml |
| Airflow | Adjustable Airflow |
| Coil Rebuildable | Coil Rebuildable |
| Thread Type | 510 |
| Coil Replaceable | Non-Replaceable Coil |
| Drip Tip | With Drip Tip |
| Package | 1 x Cthulhu Artemis RTA, 1 x Manual, 1 x Spare Parts |
| Weight | 55.6g (1.96oz) |
| Diameter | 22mm (0.87 inch) |
| Depth | 22mm (0.87 inch) |
| Height | 61mm (2.4 inch) |
| Width | 22mm (0.87 inch) |
More info
510 threading connection
Height: 35mm (without drip tip)
Diameter: 22mm
Type: Single Coil RTA
Capacity: 2.4ml
Material: 304 food grade steel
Airflow Ring Holes: 0.8mm / 1.2mm / 1.6mm / 2.0mm / 2.7mm for tight MTL and loose MTL Vapers
Air Pin Holes: 1.0mm / 1.4mm / 1.8mm / 2.0mm (without air pin 2.7mm)
Dome-shape chimney for better flavor and throat hit
High quality 304 stainless steel construction
Best for tight MTL and loose MTL vapers
Asymmetric posts for easy single coil building
Switchable air flow pins without damaging the coil
Changing air pin without damaging the coil
5 x 5 = 25 accurate air flow setting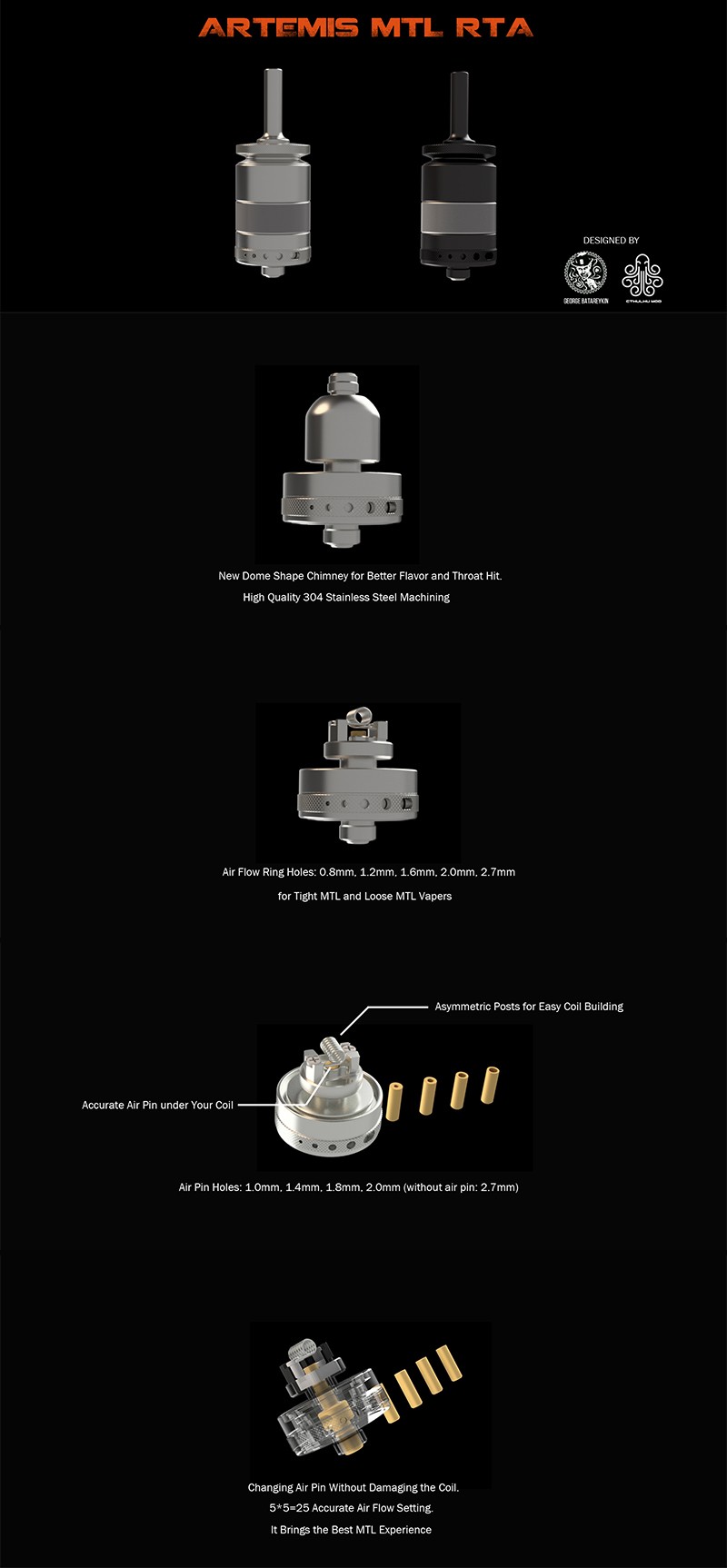 3FVape is a professional electronic cigarette retail, wholesale and dropship online shop. We provide new and cool e-cig products at affordable price. We have overseas warehouse for you for fast delivery.
If you find a product to be authentic, then it is not a clone. Authentic Cthulhu Artemis MTL RTA Rebuildable Tank Vape Atomizer - Black, 2.4ml, 22mm Diameter, review, price, shipping
and other questions regarding this product, just contact us. We also encourage you to leave review of e-cig products on 3FVape.
All the sizes are measured manually, please allow tiny differences due to manual measurement, thanks.
The parameters are for reference only; The details are subject to the official / manufacturer; Please tell us if there is any error.