Please Note: This product will be shipped around January 15, 2020 (ETA, not guaranteed). The final shipping date depends on the manufacturer. We will try to get it delivered as soon as we can.
The product images and information are provided by the manufacturer, for reference only. The final refers to the manufacturer's actual product.
The Voopoo PnP-R2 Replacement MTL Regular Coil Head is designed for Voopoo DRAG Baby Pod Kit / FIND Trio Pod Kit / VINCI Pod Kit / VINCI R Pod Kit / VINCI X Pod Kit / Caliber P22 Pod Kit as a replacement part. It features 1.0ohm regular coil resistance that power range from 10W to 15W. 5 PCS / Pack.
Suitable for:
VOOPOO Find S Trio Pod System Kit:
VOOPOO VINCI VW Mod Pod Kit:
VOOPOO VINCI X VW Mod Pod Kit:
VOOPOO VINCI R VV Mod Kit:
Voopoo VINCI AIR 30W 900mAh VW Mod Pod Kit:
3FVAPE Recommend Products:
Data sheet
| | |
| --- | --- |
| Brand | Voopoo |
| Color | Silver |
| Model | PnP-R2 |
| Product Type | Coil Head |
| Resistance | 1.0ohm |
| Package | 5 x PnP-R2 MTL Regular Coils |
| Weight | 10g (0.35oz) |
| Depth | mm (0 inch) |
| Height | mm (0 inch) |
| Width | mm (0 inch) |
More info
5 PCS / Pack
Coil Resistance: 1.0ohm, Regular Coil
Resistance Range: 10~15W
Nicotine < = 35mg
Fit for Voopoo DRAG Baby / FIND Trio / VINCI / VINCI R / VINCI X Pod System Vape Kit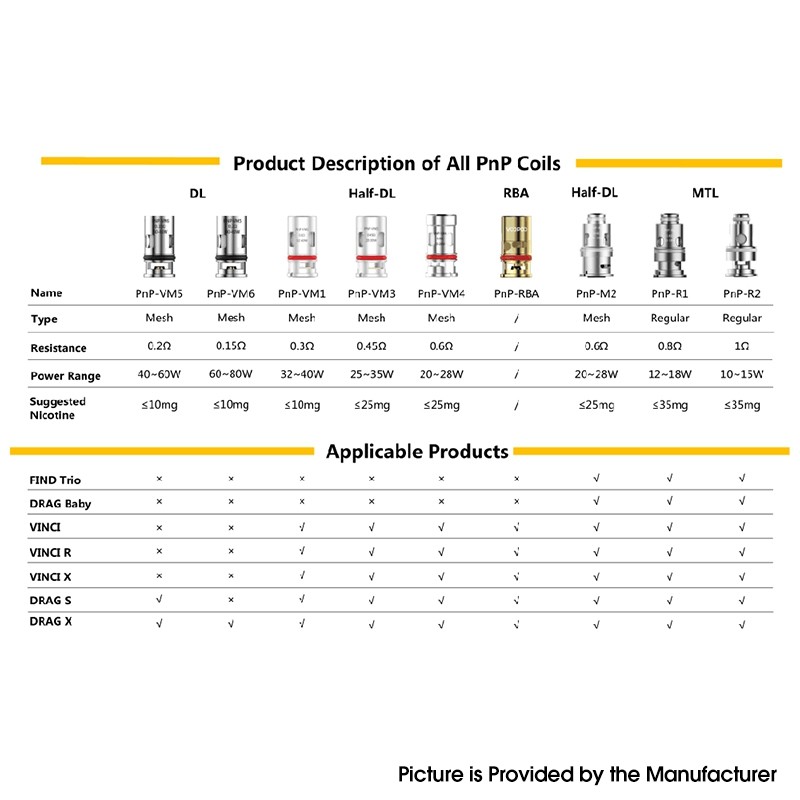 3FVape is a professional electronic cigarette retail, wholesale and dropship online shop. We provide new and cool e-cig products at affordable price. We have overseas warehouse for you for fast delivery.
If you find a product to be authentic, then it is not a clone. Authentic Voopoo PnP-R2 MTL Regular Coil for Voopoo DRAG Baby/FIND Trio/VINCI/VINCI R/VINCI X - Silver, 1.0ohm (10~15W) (5 PCS), review, price, shipping
and other questions regarding this product, just contact us. We also encourage you to leave review of e-cig products on 3FVape.
All the sizes are measured manually, please allow tiny differences due to manual measurement, thanks.
The parameters are for reference only; The details are subject to the official / manufacturer; Please tell us if there is any error.