The Voocean 40 Kit is constructed from Zinc Alloy electroplating and TPU material. Powered by a built-in 1200mAh battery and comes with 3.5ml e-juice capacity, it will provide you long-term vaping. It looks marble-like with 2 of the colors having purple tints and one grey. Its ergonomic handle grip offers great and comfortable user experience. There is a circular activation button, two adjustment key and a USB port in the control panel, so it is easy to navigate screen.
Please log in to see the lower price.
Other Color:
Replacement Coils:
0.2ohm Mesh Coils (5 PCS):
0.3ohm Coil:
0.8ohm Coil:
Replacement Pod Cartridge w/o Coils:
3FVAPE Recommend Products:
Data sheet
| | |
| --- | --- |
| Brand | Oumier |
| Model | Voocean 40 |
| Color | Purple Pattern |
| Product Type | POD System |
| Battery Capacity | 1200mAh |
| Material | Zinc Alloy Electroplating + TPU |
| Coil Rebuildable | No |
| Coil Replaceable | Yes |
| Variable Voltage (VV) | No |
| Telescoping Mod | No |
| Battery Type | Fixed |
| Power Output | 5~40W |
| Variable Wattage (VW) | Yes |
| Charge Style | AC/USB |
| Package | 1 x Voocean 40 Mod, 1 x Voocean 40 Pod Cartridge, 1 x 0.8ohm Coil, 1 x 0.3ohm Coil, 1 x USB Cable, 1 x User Manual, 1 x Warranty Card |
| Weight | 70g (2.47oz) |
| Depth | 32mm (1.26 inch) |
| Height | 104mm (4.09 inch) |
| Width | 25mm (0.98 inch) |
| Shipping Type | Built-in Battery |
More info
Size: 104 x 32 x 25mm
Battery Type: 1200mAh Built-in Battery (Charging time 30mins)
Power Range: 5~40W
Input Voltage: 3.2~4.2V
Output Voltage: 1~4V
Charge Voltage: 5V / 1.6V
Resistance: 0.2~3.0ohm
Pod Cartridge Capacity: 3.5ml
Coil Resistance 0.3ohm (35~40W) / 0.8ohm (10~15W)
Metal technic panels design gives comfortable hand feeling
Look marble-like with 2 of the colors having purple tints and one grey
Top Refilling System
Over Power Protection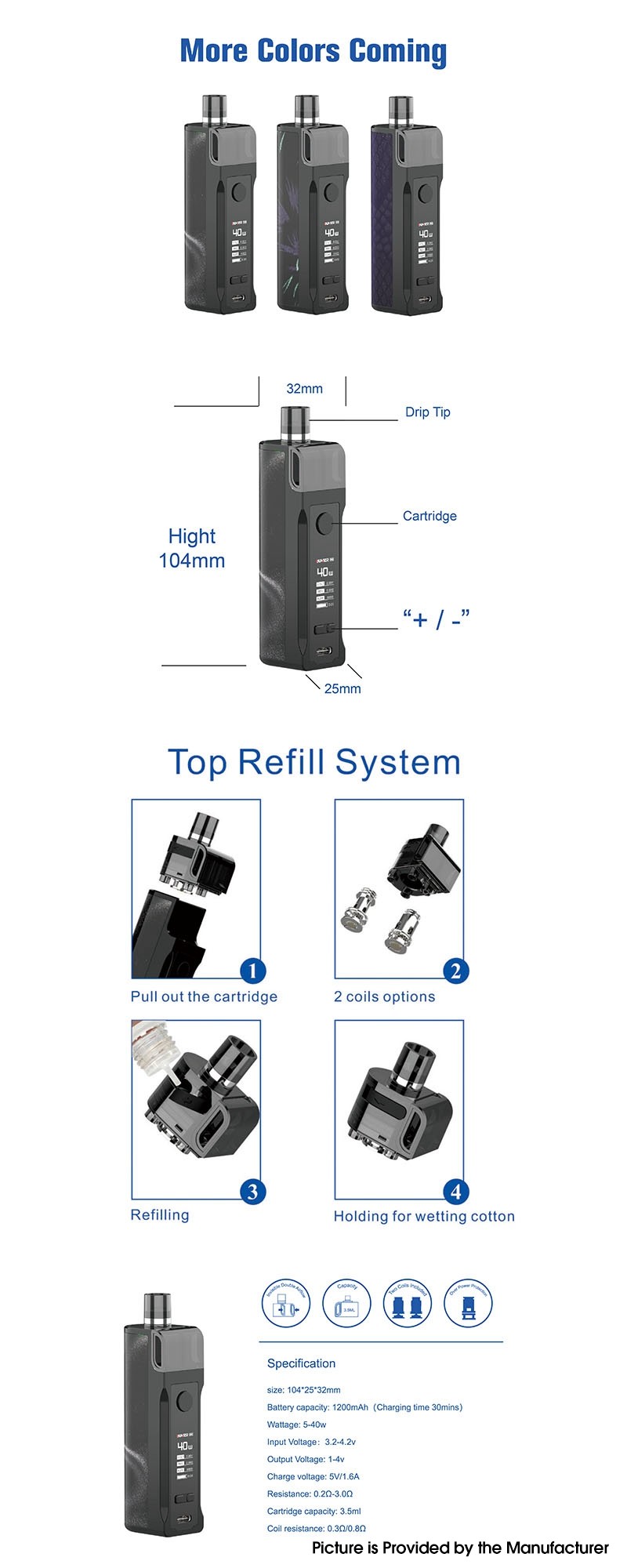 3FVape is a professional electronic cigarette retail, wholesale and dropship online shop. We provide new and cool e-cig products at affordable price. We have overseas warehouse for you for fast delivery.
If you find a product to be authentic, then it is not a clone. Authentic Oumier Voocean 40 40W 1200mAh VW Box Mod Pod System Vape Starter Kit - Purple Pattern, 3.5ml, 0.3ohm / 0.8ohm, 5~40W, review, price, shipping
and other questions regarding this product, just contact us. We also encourage you to leave review of e-cig products on 3FVape.
All the sizes are measured manually, please allow tiny differences due to manual measurement, thanks.
The parameters are for reference only; The details are subject to the official / manufacturer; Please tell us if there is any error.